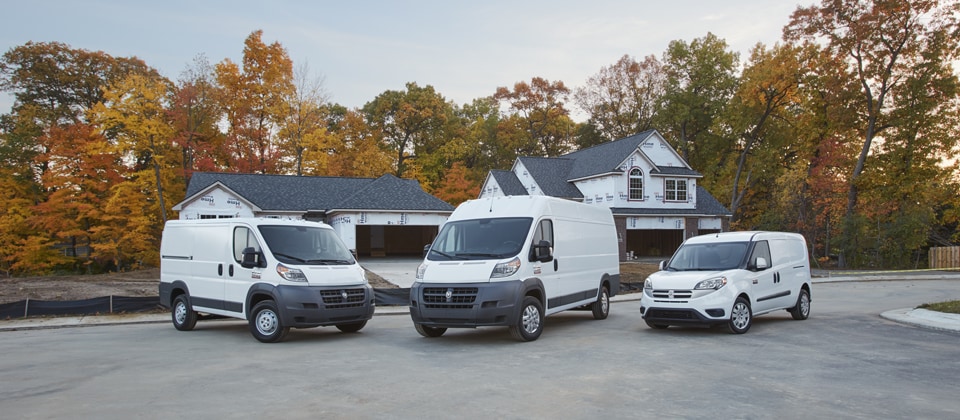 Find the 2021 Ram ProMaster and ProMaster City for Sale in New Braunfels
What will you like about the Ram ProMaster and ProMaster City? A lot. In each vehicle's 2021 edition, drivers receive excellent horsepower and lots of storage space. Both Ram vehicles can take you further than the previous models, harboring powerful engines that perform well even when the load gets heavy. You'll get extended roadside assistance for emergencies and the latest in navigational controls.
Ram ProMaster Highlights
The Ram ProMaster sets the standard for the fleet of vehicles that come built for heavy-duty hauling. Whether you need to move something to a different location around San Antonio or elsewhere, you'll find it easier to manage with the ProMaster around. The open-body design of the trunk appears large enough to haul over 250 cubic feet of cargo. The new ProMaster can also contain up to five seats, with the rest of the space boosting capacity for fewer back-and-forth trips for whatever you need to move. For business owners that transport equipment to different locations, the ProMaster provides an excellent solution.
The ProMaster also has more than one type of vehicle for your consideration. You will find the Ram ProMaster in a cargo van, window van, chassis cab, and cutaway van styles.
Cargo Van - The Ram ProMaster Cargo Van has a low roof and limited seating capacity. With less seating comes extra storage, and you can place items immediately behind the driver's seat.
Window Van - The Ram ProMaster Window Van arrives slightly larger at the top than the cargo van model, and it features 6,480 pounds of towing capacity. You will appreciate the voice-activated controls for music and navigational options on a touchpad between the driver and passenger seat.
Chassis Cab - The new ProMaster Chassis Cab makes a wonderful option for carrying large items that wouldn't fit in the cargo and window van models. The rear flatbed remains completely exposed, where you can secure any hauled items to their sides.
Cutaway - The ProMaster Cutaway looks a lot like the Chassis Cab, but it comes painted black. Aside from the visual differences, the exposed flatbed also remains the same. The capacity of both the Cab and Cutaway models remains 5,100 pounds.
Ram ProMaster City Highlights
The Ram ProMaster City arrives smaller than the ProMaster and makes a great solution for business dealings and casual driving. Upon immediate inspection, you'll understand how well it multitasks. You'll get multi-seating capacity, with five seats as the standard for the passenger wagon style. You can use the new ProMaster City for transporting cargo or passengers around San Antonio. The interior remains customizable with several upfit, shelf, and wall space solutions. You can choose between two body styles.
Cargo Van - The ProMaster City Cargo Van possesses 2,000 pounds of storage capacity, thanks to fewer seats built into the front.
 
Passenger Wagon - If you want your ProMaster City to have more seating, the Passenger Wagon makes a great option to consider. Storage capacity gets reduced by approximately 120 pounds, retaining enough space to get large items inside without needing to fold back the rear seats on every occasion.
Some PostMaster City models may contain windows next to the rear passenger seats, while others don't. You'll get two rear doors on each, which extend out when opened.
Test a Ram ProMaster or Ram ProMaster City Today
Would you like to schedule a Ram test drive? You can do so by visiting Bluebonnet Chrysler Dodge in New Braunfels. When here, check out each type of ProMaster van we carry in our Ram inventory and find the best match for your preferred seating capacity and towing specifications. Moving your cargo from one place to the next should feel as easy as possible. After inquiring with us about your next Ram ProMaster, you'll likely feel more than ready to confidently drive with a heavy load. We welcome you to our dealership soon.