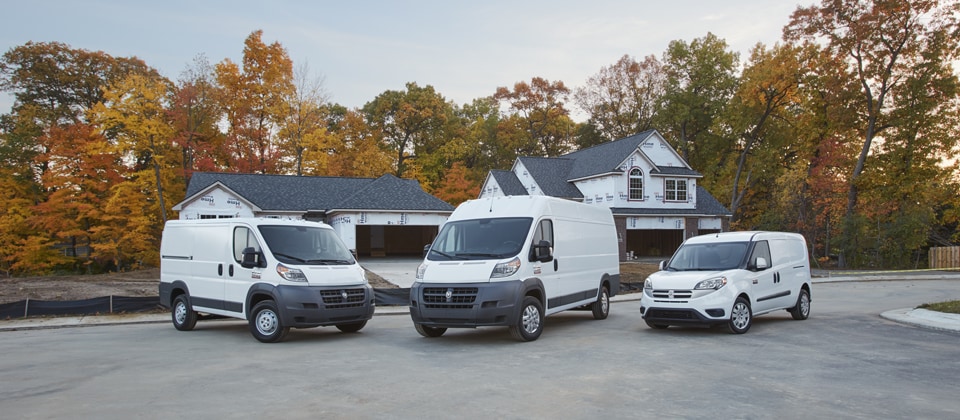 Texas drivers can and should rely on Bluebonnet to provide them with an assorted selection of Chrysler, Dodge and Ram models to satisfy their driving needs. A vehicle is more than just a vehicle to most, and the staff at Bluebonnet understands that. We're trained in matching a driver's personality to the right new or used model in the Chrysler, Dodge or Ram families.
From the moment a customer walks into our dealership, we begin our service lifecycle of test driving, finance planning and post-purchase maintenance and repair. You won't be left in the dust when you choose Bluebonnet as your new and used vehicle supplier. We even try to help you before we meet in person. With our packed online inventory, you can browse our models and utilize reading materials we've created just for you.
On that note, if you're in the market for a new Ram van, there are two Ram models you may already know about: Ram ProMaster® and Ram ProMaster City®. While close in name, these vans have their share of differences. To assist you in making the right choice, we've outlined both options. This way you can make an informed decision when it's time to buy or lease yours here in San Braunfels.
How are the ProMaster and ProMaster City Different?
The ProMaster and ProMaster City have their own distinctions regarding cargo capacity, payload and towing, performance and unique features. While we like each of these vans equally, you might find that one is better for you depending on what you're interested in or looking to use it for in your professional or personal life.
Cargo Capacity: When it comes to size, the ProMaster wins the bout with a maximum cargo area of 460 cubic-feet as well as best-in-class cargo width (75.6 inches) and height (65.4 inches) dimensions. The slightly smaller ProMaster City's cargo capacity measures out to 131.7 cubic-feet. The space between the wheel wells in both vans is larger in the Ram ProMaster (55.8 inches) compared to 48.4 inches in the ProMaster City.
Towing and Payload: Along with its size comes better payload and towing capabilities. The ProMaster handles up to 4,440 pounds of payload depending on the high or standard roof option and trim: cargo van, chassis cab or cutaway van. When properly equipped with available towing mechanisms, the ProMaster can tow up to 5,100 pounds, while the ProMaster City tows up to 2,000 pounds and carries up to 1,883 pounds for its maximum payload.
Performance: The ProMaster is equipped with 280 horsepower and 260 pound-feet of torque made possible by its powerful 3.6-liter Pentastar® V6 engine. The ProMaster City's 2.4-liter Tigershark® Multiair®2 I-4 reaches 178 horsepower and 174 pound-feet of torque. However, the ProMaster City includes a class-exclusive nine-speed automatic transmission that aids in going from 0-30 mph in 3.7 seconds. Both Ram models include 10,000-mile oil change intervals that will help space out routine maintenance.
 Unique Features: On the outside, these vans are not identical in style or size. In looks, the ProMaster resembles more of a bulky van rather than a slimmer SUV like the ProMaster City. Each feature front-wheel-drive and an Electronic Stability Control System with antilock brakes and traction control for protection against slick roads. Other features vary: the ProMaster has a best-in-class 36.3-feet turning diameter, and the ProMaster City features best-in-class 28 mpg highway fuel economy making traveling more fuel-efficient.
Overall, the Ram ProMaster and Ram ProMaster City both have impressive rap sheets. They're crafted to handle tougher jobs and carry more weight while still providing the safety and technology features that average drivers like to see. If you want more space, horsepower and torque, you may want to explore the ProMaster. If you want a work van that can easily double as a passenger van, try out the ProMaster City.
If you have a good idea which Ram van you'd like to test drive, come visit Bluebonnet in New Braunfels, and we'll give you a taste of what each Ram model has to offer you. If you'd like to give them another look, that's fine too. Just browse these durable Ram models again before driving out to see us and falling in love in person.