Buy Or Lease The Heavy-Duty 2021 Ram 3500 In New Braunfels
The 2021 Ram 3500 is one of the most popular heavy-duty pickup trucks available to San Antonio area drivers. The new Ram 3500 is ready to tackle the challenging jobs that its owners have for it while remaining efficient during the process. There is a slew of features that make the 2021 Ram 3500 a great option for your New Braunfels lifestyle.
Powertrain Options
There are three powertrains and five trim levels that are available for the 2021 Ram 3500. The standard 6.4-liter V8 engine that is offered provides 410 horsepower and 429 pound-feet of torque when it is mated with an eight-speed automatic transmission. A larger and more powerful 6.7-liter six-cylinder Cummins® diesel engine is available in two versions for the new Ram 3500. The first variant of the Cummins® diesel produces 370 horsepower and an impressive 850 pound-feet of torque. The second variant of the Ram 3500 Cummins diesel engine is a high-output version, producing 400 horsepower and a beastly 1,075 pound-feet of torque.
Towing Capabilities
Towing across the 2021 Ram 3500 lineup varies based on the engine layout that a customer chooses. The standard maximum towing capacity of the Ram 3500, when equipped with the base 6.4-liter V8 engine, is 14,370 pounds. However, with the high-output six-cylinder Cummins engine that is offered, the 2021 Ram 3500 can tow up to 37,100 pounds.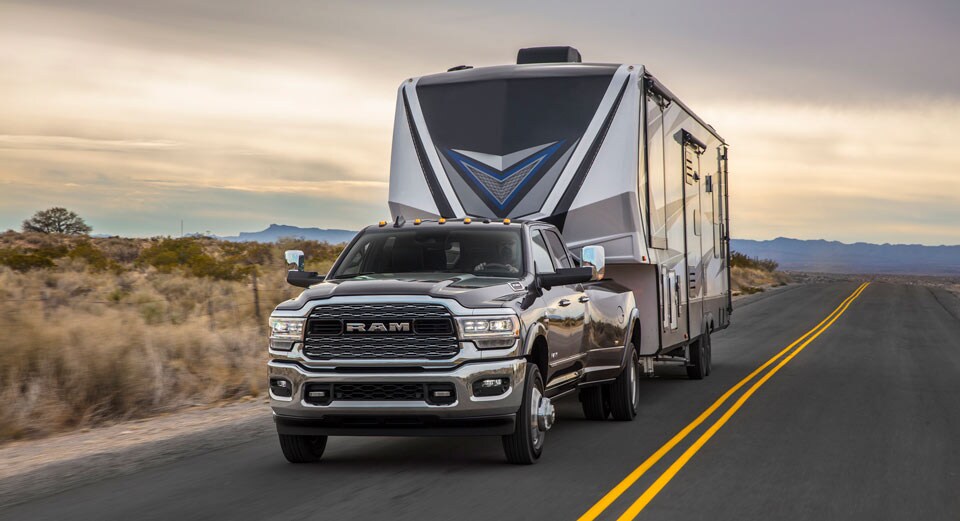 Interior and Comfort Features
Drivers can sit comfortably inside of the 2021 Ram 3500 while the truck completes its tough tasks. Standard acoustic glass and active noise cancellation technologies allow the cabins of the Ram 3500 trucks to remain quiet and peaceful for their occupants. However, an available premium high-quality audio system can line the interior of the new Ram 3500 with great sounds.
Test Drive The Ram 3500
Come experience the powerful performance that the new 2021 Ram 3500 has to offer. We have the new model at our dealership and will be happy to schedule a test drive for you. Call or email today!