This Full Size RAM Pickup Has Increased Power and New Interior Features
The new Ram 1500 has arrived. Featuring a redesigned frame made of high-strength steel that gives the RAM 1500 increased payload while creating a smoother and more enjoyable ride; the newest RAM truck has been redesigned to impress with style and performance.  The RAM 1500 is on sale now at Bluebonnet Chrysler Dodge RAM.
Engine Technology the Likes of Which Drivers Have Never Seen
RAM trucks have done nothing but improve since they were first built, but improvement doesn't always mean bigger, bolder, and more powerful; sometimes efficiency and saving fuel can be an improvement too.  The RAM 1500 encourages drivers to work smarter without having to work harder, and give them more bang for their buck, thanks to the new Motor Generator Unit charging the 48-volt battery, making the RAM 1500 a "mild-hybrid" vehicle.  RAM's new mild-hybrid system uses a 5.7-liter V8 that is air-cooled instead of liquid cooled, reducing the number of needed parts and creating a less complicated engine.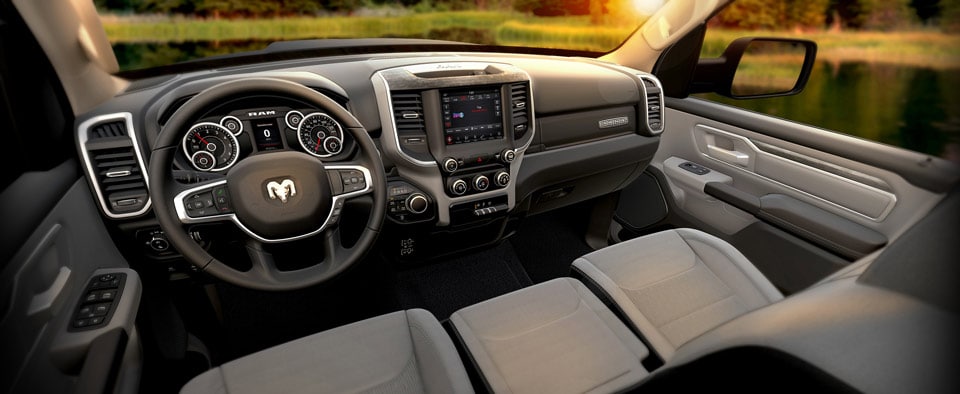 New and Futuristic Interior with Incredible Luxury Features
The RAM 1500 is what happens when you create a work truck and make it into a luxury vehicle while you're at it.  Multiple exterior cameras create a 360-degree view around your vehicle for peace of mind and accuracy while parking.  High-quality premium-materials create a more nuanced interior than ever before, and the incredible 12-inch touchscreen with RAM's signature Uconnect system rivals other models for largest screen and most capabilities on any vehicle.
Available Now At Bluebonnet Chrysler Dodge RAM
Visit us to test drive the new Ram 1500 at our New Braunfels, TX dealership and learn about its new and exciting features. Learn more about the available trim levels on the new Ram 1500 at our dealership. We are the #1 Volume Ram Dealership in Texas. We'll see you soon!