This Full Size RAM Pickup Has Increased Power and New Interior Features
The new Ram 1500 has arrived. Featuring a redesigned frame made of high-strength steel that gives the RAM 1500 increased payload while creating a smoother and more enjoyable ride; the newest RAM truck has been redesigned to impress with style and performance.  The RAM 1500 is on sale now at Bluebonnet Chrysler Dodge RAM.
Engine Technology the Likes of Which Drivers Have Never Seen
RAM trucks have done nothing but improve since they were first built, but improvement doesn't always mean bigger, bolder, and more powerful; sometimes efficiency and saving fuel can be an improvement too.  The RAM 1500 encourages drivers to work smarter without having to work harder, and give them more bang for their buck, thanks to the new Motor Generator Unit charging the 48-volt battery, making the RAM 1500 a "mild-hybrid" vehicle.  RAM's new mild-hybrid system uses a 5.7-liter V8 that is air-cooled instead of liquid cooled, reducing the number of needed parts and creating a less complicated engine.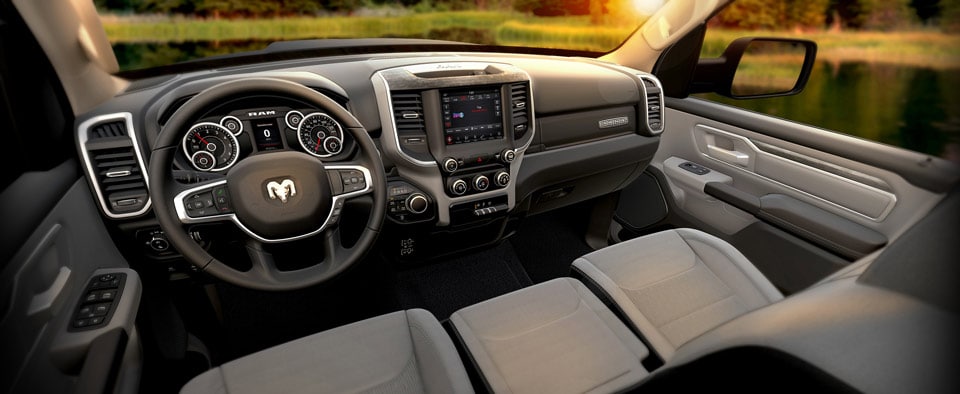 New and Futuristic Interior with Incredible Luxury Features
The RAM 1500 is what happens when you create a work truck and make it into a luxury vehicle while you're at it.  Multiple exterior cameras create a 360-degree view around your vehicle for peace of mind and accuracy while parking.  High-quality premium-materials create a more nuanced interior than ever before, and the incredible 12-inch touchscreen with RAM's signature Uconnect system rivals other models for largest screen and most capabilities on any vehicle.
Available The RAM 1500 Trim Levels
The RAM 1500 comes in six different trims. These include:
The RAM 1500 Tradesman
The RAM 1500 Big Horn
The RAM 1500 Laramie
The RAM 1500 Rebel
The RAM 1500 Laramie Longhorn
The RAM 1500 Limited
The RAM 1500 Tradesman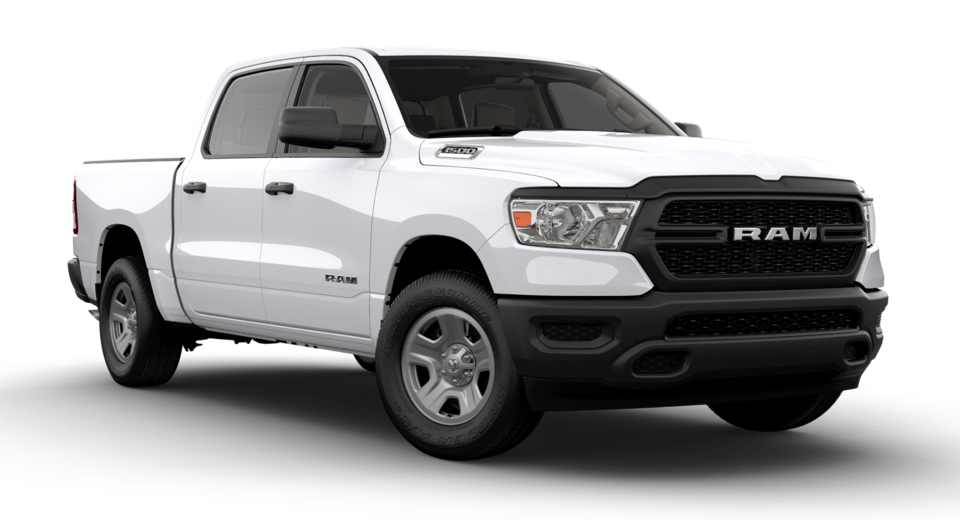 The RAM 1500 Tradesman comes with an advanced infotainment system that includes a Uconnect system that allows seamless connection with devices, navigation, and communication. It offers a 5-inch touchscreen, in-built voice-activated features, a Bluetooth connection system, remote keyless entry, and a rear camera. The Tradesman can carry up to six passengers and offers vinyl seats as standard.
It also comes with safety features such as cross-traffic alert, blind-spot monitoring, ABS, a tire pressure monitoring system, braking assist, stability control, and traction control.
The Ram 1500 Tradesman is powered by a 3.6-liter V6 gasoline engine with a power output of 305HP and 269 lb.-ft of torque and 8-speed automatic transmission that produces a smooth shift. The rear-wheel-drive is a standard drivetrain and a 4x4 available.
The most notable external feature is the black accent and black mesh grille.
The RAM 1500 Big Horn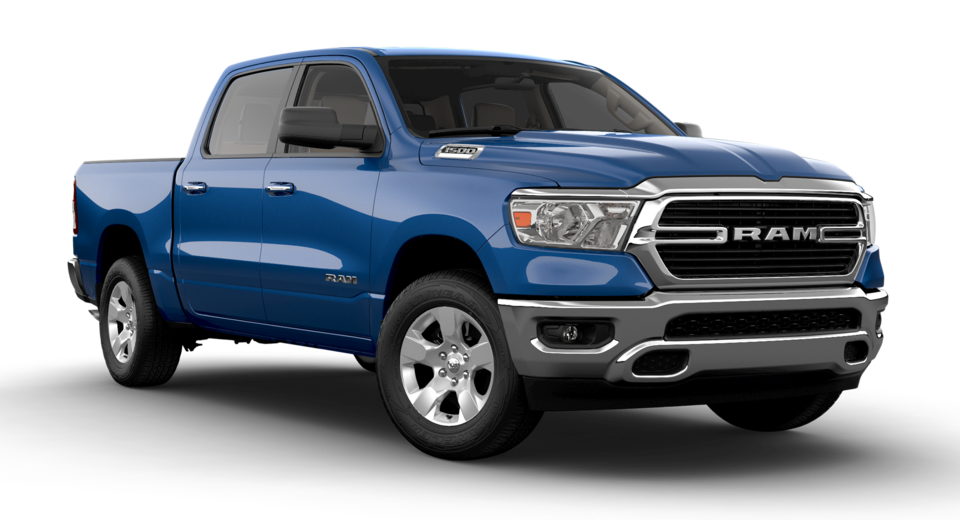 The Big Horn is fitted with chrome made rear and front bumpers grills and door handles. The seats are made of cloth and vinyl and come with four color configurations. The Big Horn also comes with 20-inch wheels, either chrome or painted. It comes with optional Uconnect and 8.4-inch touchscreen system and sport appearance package. It also offers a rear-wheel and a four-wheel drivetrain. It also comes with a power driver seat.
The Big Horn is one of the safest trucks available in the market. The available Adaptive cruise control helps maintain distance with other cars on the traffic. It also comes with a Stop-and-Go feature that helps reduce fuel consumption.
The Big Horn is powered by either the standard 3.6 -liter V6 engine or an optional V8.
The RAM 1500 Laramie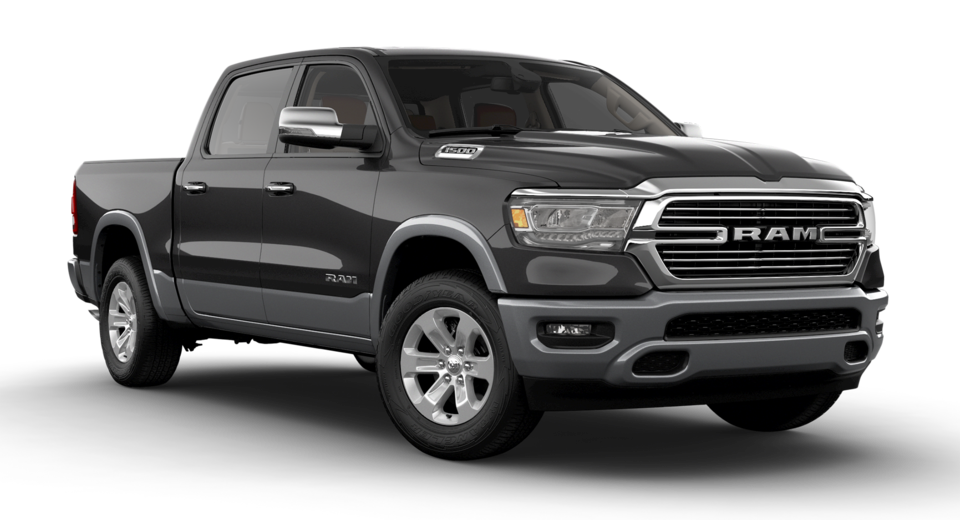 The Laramie comes with advanced technological features such as the Uconnect 12.0, which comes with a 12-inch touchscreen. This trim also offers full-screen navigation,10-speaker Alpine audio system, and a 12-way power driver and passenger seats. This trim also offers 20-inch aluminum wheels. The Laramie also comes with two 115-volts power outlets and on 12-volts, Apple CarPlay, Android Auto, SiriusXM satellite radio.
The Laramie also comes with available 22-inch chrome wheels.
The RAM 1500 Rebel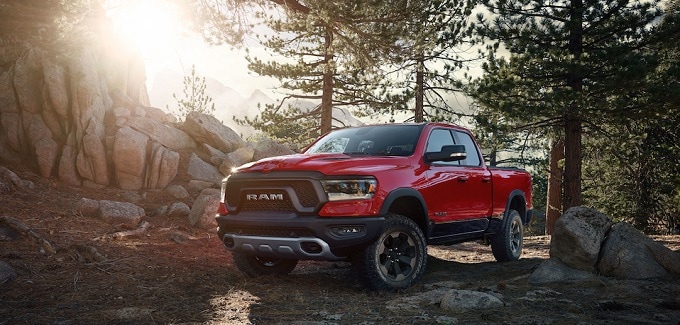 The Rebel is equipped with an 18-inch black painted and polished aluminum wheels and fitted with 33-inch all-terrain tires. Additional performance features include electronic locking differential offers traction on muddy roads, traction control, electronic stability, and brake assist.
The Rebel is also updated with LED lamps, LED tail lamps, and fog lamps that give it a beautiful but aggressive look.
The RAM 1500 Laramie Longhorn
The Laramie Longhorn is updated with premium leather seats and a leather-covered dashboard that gives the interior a classy look. The Longhorn offers heated rear seats with a center console that can be folded down. It also offers a front tow hook, optional reclining rear seats, and a 12-inch touchscreen. The Laramie longhorn also comes with a two-tone exterior color option available.
The RAM 1500 Limited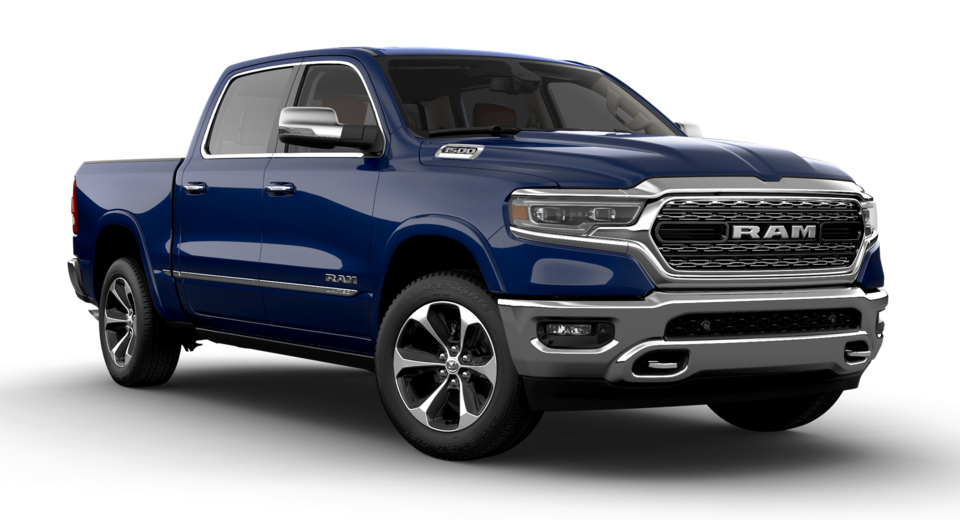 The RAM 1500 Limited is the most advanced truck in the RAM 1500 family. It comes with a real wood accent that gives it an exceptional look, heated rear seats, updated Uconnect version-12, which features a 12-inch touchscreen, Harman Kardon Premium Audio system with 19 speakers, and pneumatic suspension.
The external features include a corrugated mesh grill and state-of-art design with a chrome accent.
It also comes with a variety of safety features such as traction control, ABS, brake assist, stability, locking differential, and available blind-spot monitoring.
It is powered by the standard 3.6L V6 engine that offers 305 horsepower and 269 lb.-ft of torque.
Available Now At Bluebonnet Chrysler Dodge RAM
Visit us to test drive the new Ram 1500 at our New Braunfels, TX dealership and learn about its new and exciting features. We are the #1 Volume Ram Dealership in Texas. We'll see you soon!
Shop Our Ram 1500 Inventory