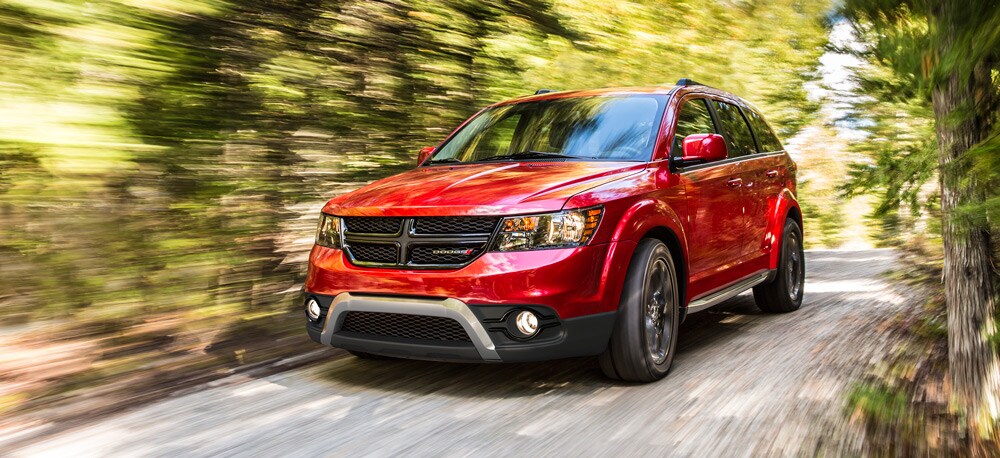 The New Dodge Journey Compact SUV
At BlueBonnet Chrysler Dodge, our selection of Dodge Journey models exceeds the amount you may see at other dealerships. If you've been in the search for a reliable mid-size SUV and you live in or around the surrounding areas of New Braunfels, TX than you're in luck and closer than ever to becoming the owner of a brand-new quality SUV. The popular mid-size SUV is a stand out performer that is available in various trims including the SE, SXT, Crossroad, Crossroad Plus, and the GT. The Journey is a great compact SUV for carpooling with the extra third-row foldable seating and holds plenty of comfort space for passengers. It makes for a great weekend getaway vehicle for camping or hiking and supports an efficient gas economy for your daily commute to work.
The Dodge Journey comes standard with a 173-horsepower 4-speed 2.4-Liter automatic engine and offers an average fuel efficiency of 19 mpg city and 25 mpg highway. The low emission vehicle has a fuel tank capacity of 20.5 gallons and comes standard with overdrive and a lock-up torque converter. 17-inch wheels and gas-pressurized front shocks also come standard with four-wheel independent suspension.
The Journey comfortably holds 5-7 people and with the Uconnect Bluetooth capabilities, six speakers, a front row LCD monitor, and the option for DVD-Audio, there's plenty of entertainment for everyone on the inside. The option for leather interior is available on certain trims and packages and 67.6 cubic feet of cargo volume there is plenty of room for transporting. Most importantly, however, is the safety of your passengers.
Drive confidently knowing you are well equipped with the modern safety features of the 4-wheel ABS braking system, traction control, anti-whiplash head restraints, dual front and side impact airbags, seat-mounted driver and passenger side-impact airbags, and front and rear anti-roll bars. You and your passengers will have a new sense of protection and well-being when riding in the Dodge Journey.
If you've been searching and reading reviews of the Dodge Journey, then now is your chance to schedule a test drive at BlueBonnet Chrysler Dodge. Stop by to view our inventory at 547 S Seguin Ave, New Braunfels, TX 78130 or contact a member of our sales team for any questions at (888)850.2186.