Comparing the RAM 2500 to the Ford F-250
Comparing two Heavy Duty Trucks, Which is Best?
When it comes to the heavy-duty truck market there are a lot of options.  Each truck brand boasts that its model is the most capable and the most powerful, making it more difficult to make a decision when it comes time to buy.  Here at Bluebonnet Chrysler Dodge, we want to assist you in making a decision that feels best for you.  It's about ensuring that you have the tools you need to get the job done or to haul all your gear.  Our inventory of RAM 2500s is a fantastic option.  These heavy-duty trucks are not only rugged looking, but their performance lives up to their image.  The RAM 2500 is most commonly compared to the Ford F-250, so we figured it would be beneficial to you to see how they vary.  The F-250 are great trucks with some nice features, but they don't measure up to the power, style, performance, and versatility of the RAM 2500.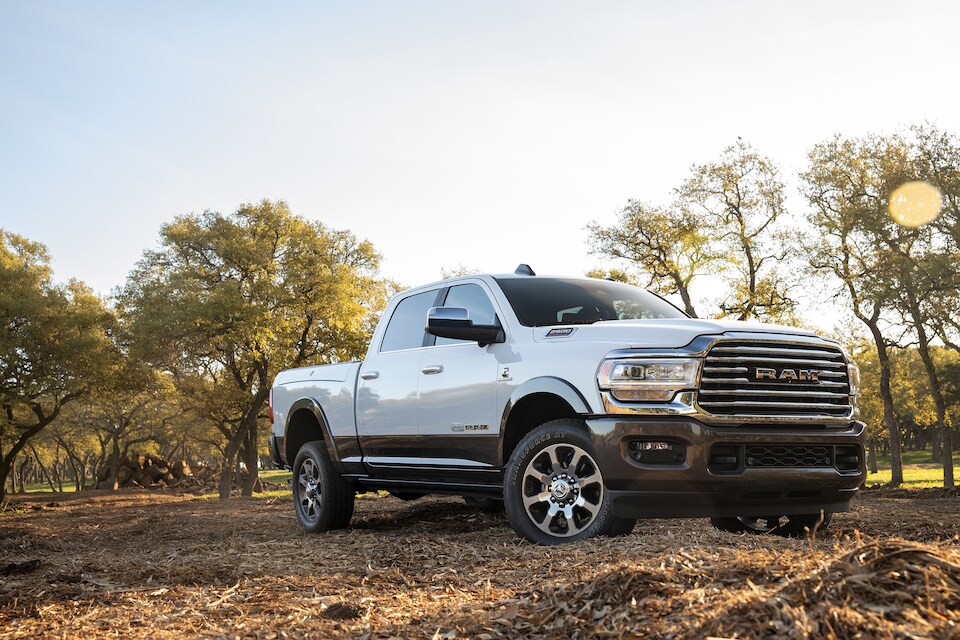 Performance
We know that our truck shoppers care about the dependability of their engines.  The RAM 2500 has powerful engine options that allow you to haul, tow, and load up ample amounts of gear and tools.  To begin with, the Ford F-250 comes standard with a 6.2-liter V8 engine, while the RAM 2500 comes equipped with a standard HEMI® 5.7-liter V8 engine.  If you want this same kind of power from a Ford F-250, you'll have to pay a considerable amount more.
The RAM 2500's V8 pumps out an impressive 400 pound to feet of torque and 383 horsepower.  You'll have a maximum towing capacity of 13,890 pounds! If you are looking for even more power, you can opt for the 6.7-liter Cummins® turbo diesel engine that increases your capability to 800 pound to feet of torque and 370 horsepower.  This also bumps up the towing capacity to 17,980 pounds.  This is all paired with a six-speed automatic transmission.
Features
Both the RAM 2500 and the Ford F-150 come with a host of new safety features as well as new technologies like larger touchscreens and cameras.  The RAM 2500 comes equipped with forward collision warning with active braking as well as an adaptive forward lighting system. There is also available adaptive cruise control with stop so you can ensure you don't have to worry about rear-ending another driver. On the inside of the RAM 2500, you'll find a more modern interior compared to the Ford F-250.  The interior is also better designed with a reimagined center console that can store a laptop up to 15-inches.  There is even an available wireless charging station and stowable cup holder.  The Ford F-250 has a smaller touchscreen, so it's harder to use its features.
The RAM 2500 is the Winner
While the RAM 2500 and Ford F-250 have comparable staring prices, you get a lot more for your money in the RAM 2500. The RAM is the larger truck so you can both add more to the bed and to the interior when it comes to comfort.  The RAM 2500 also has more options to customize your truck to make it better suited to your lifestyle and driving needs.
We are excited to see how you like the RAM 2500.  This heavy-duty truck is no joke; it's ready to work as hard as you do so you can accomplish jobs quicker.  Our knowledgeable sales team is ready and waiting to schedule your test drive.  We have a fantastic inventory of models! We are the dealership you can trust, and we can't wait to work with you.