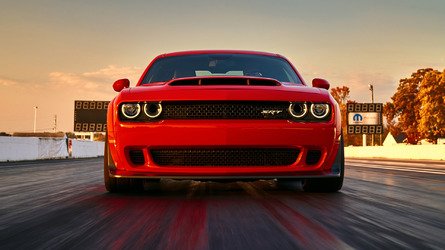 The 2018 Dodge Demon SRT has meaner looks and a meaner sound than its menacing name. This vehicle was built to raise hell and with the highest horsepower of any production car, this fire breather smokes the competition. This high-performance vehicle is an absolute rush for SRT enthusiast across the globe and 2018 will be the year all hell breaks loose with the release of the Demon SRT model.
There are many firsts for this car which makes it stand out from the typical muscle car. The Demon has the highest horsepower for any V8 production car at an astounding 840hp. Its flawless design includes the largest functional hood scoop at 45.2 square inches, which allows for serious air intake for the supercharged 6.2-Liter Hemi. It's the fastest production car ever made and can reach 0-60 mph in 2.3 seconds. At this speed, no wonder why it's the first production car ever to achieve front wheel lift after punching the gas. This makes for another first, being the only production car with drag radial tires, which have 15% more rubber than the Dodge Challenger SRT Hellcat tires and double the coefficient traction compared to regular street tires. This car is built for expert track performance and holds the title for the world's fastest ¼ mile for any production car as well as the highest G-Force by a production car with a record of 1.8 G's. One last first of its many accomplishments is the Demon is the first factory production car with a Torque reserve launch system that allows for insane launch acceleration.
The bottom line is the Dodge Demon outperforms every production muscle car ever made. It's an outstanding work of mechanical art and a first of its kind. This is by far one of the most impressive production vehicles known to drivers and muscle car enthusiast.